Vintage bride Sophie is here with a guide to buying a vintage or secondhand wedding dress. If you're looking to save money or just really love that vintage feel then read on! :)
Hi Cwtchers and a very merry Christmas to you too!
We're feeling very Christmassy here at Cwtch HQ. I'm feeling particularly nostalgic and have been crafting and baking my heart out. There is no time of year I prefer more than the lead up to Christmas for sitting down with a hot toddy, sourcing vintage finds and I've been super busy putting together my guide to buying a vintage wedding dress as a Christmas present to you.
Buying any wedding dress can be a very daunting prospect. There are so many styles out there so it really helps to narrow down your search early on. As with any age of dress, new or old, it always helps to know which style suits your figure.
I would recommend trying on as many styles of dress as possible (dare I say it, even before he pops the question!) When you have your styles nailed you need to pin down the era of dress you are looking for. You can use my previous posts for inspiration and I have a catalogue of images available in my Pinterest boards for you to peruse if you are still undecided.
Choosing and locating your dream vintage dress is no mean feat. When, and if, you find your dream gown (in your size of course), you should be very proud indeed. It is unfortunate to say but I will be upfront; vintage wedding dresses are a lot harder to source in larger sizes. I say 'larger' in the old fashioned sense. Being a modern size 12, I struggled, and failed.
You will find that most vintage dresses are modern sizes 6, 8 and, at a push, 10. I would suggest buying and viewing dresses 1-2 dress sizes larger than the size you are as dress sizes were smaller back in the day and you can always have a dress taken in if need be. But do not be defeated, those larger sizes are out there. You may need to be a little less picky but if you have the time and patience, it really is possible to find it.
I will begin by giving you my round up of generic sites, so get them saved to 'Favourites' and schedule in an hour each day to review the latest picks. You need grit, time and determination to go vintage. You also need to be prepared for heartache (as I will cover later on). So if you are up for the challenge, let's get searching…


The old favourite for second hand bargains. Dresses are usually sold privately on this mammoth online auction site so expect to see everything from 80s meringues to Grandma's beautiful lace. Dresses can be shipped from all over the globe so the world really is your oyster!
Of course, unless the dress is local to you, it will not be possible to try before you buy so you do run a risk of it not fitting. Get Mum or your bridesmaids to take your measurements and if you are unsure, buy larger than you think you need. Vintage wedding dresses sell well so if you do buy something that you deem a mistake, you could relist it and sell it on yourself.
With any auction, there is the possibility that you will encounter your share of heartbreak. This happened to me. At 2am, I sat blurry-eyed, glued to the laptop, not anticipating the late night bidding war which was about to commence. The dress I had seen was in the US and I decided that I would not pay more than £450 for it. It was an original 50s number, white and adorned with exquisite black flocking around the hemline.
It was so unique and so, so beautiful. The price rose and exceeded my budget. I put in a higher bid anyway and with 3 seconds to go, I lost it by a mere £40. I'm not ashamed to say that I cried, a lot. So my advice to you is that if you do find the dress of your dreams, don't just 'budget', really decide what the dress is worth to you emotionally. In hindsight, I would have paid much more and actually ended up paying a lot more for the dress I wore. Choking up, let's move on…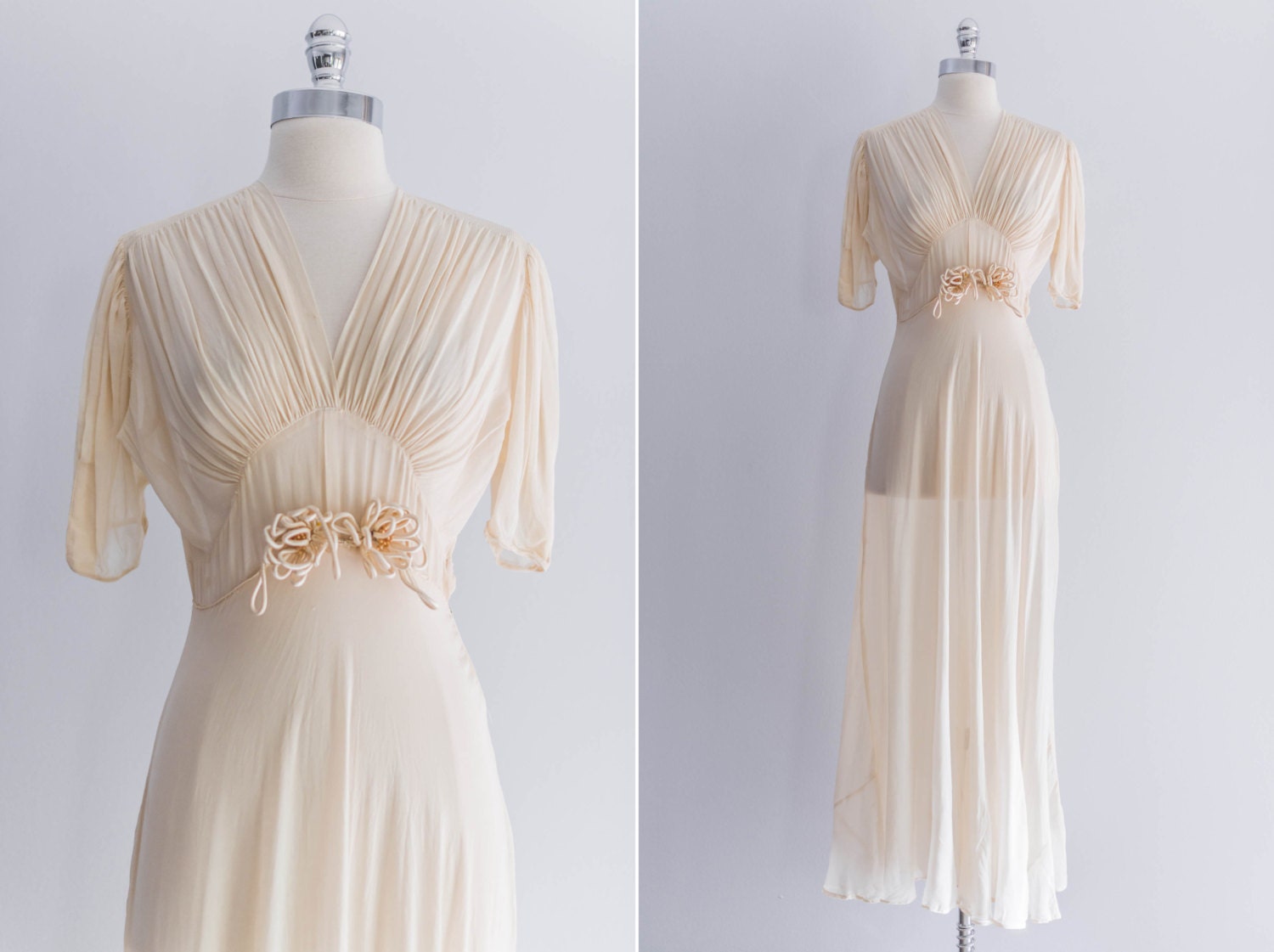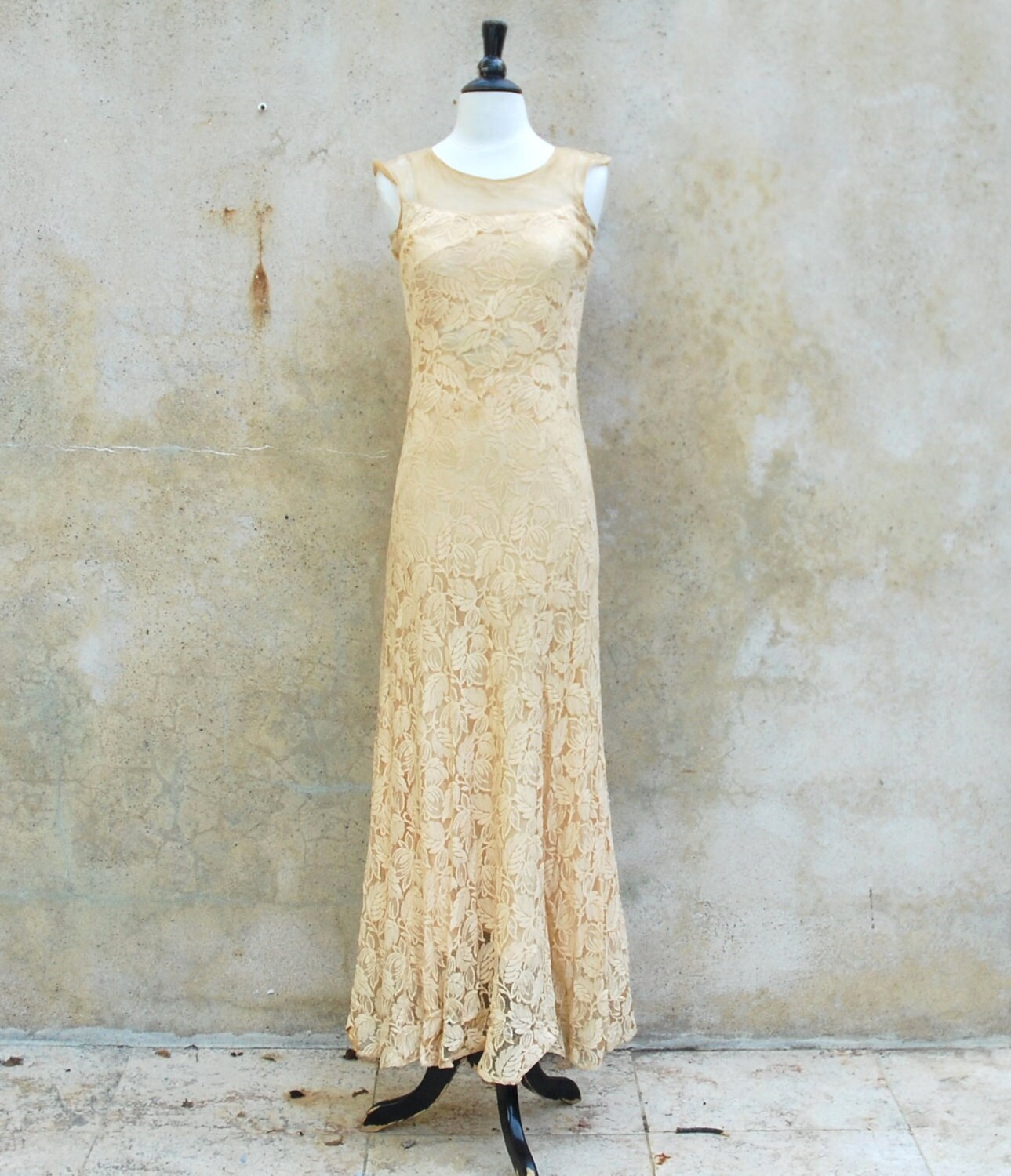 Known for its handmade treasures (perfect for unique favours and accessories), Etsy also has a vintage section – the site brings together individual sellers in an online 'marketplace' and there are shops on there who sell the most gorgeous vintage wedding dresses at very reasonable prices!
With no bidding, the transactional process is very straightforward: simply buy from the seller and have the dress shipped. The bonus of Etsy is that you are buying from a shop. This means you can send sellers a message before buying, asking questions, negotiating returns if it isn't right and even making an offer. Etsy is very addictive and is a truly incredible source for unique buys for all areas of your wedding so you'd better set some time aside before popping on to this one!
Yes, you heard right! Oxfam have rightly cottoned on to the huge demand for vintage and preloved wedding dresses and now have a specific area dedicated to them on their website. They also have dedicated areas in selected shops (although unfortunately not in Wales: maybe we can change that!) which gives you the huge advantage of being able to try dresses on.
Again, prices are reasonable and it's a fantastic bonus knowing that the money you spend on your dress is going to a good cause. I've been to the Leicester store a number of times and I did experience a lot of puffballs but that's not to say that that dream dress isn't lurking somewhere. Who knows what will be donated tomorrow so it is always worth a look!
A great little site for, well, preloved anything really! The quickest and easiest way to locate what you are looking for is the search engine. It is a favourite with bridal boutiques who use the free-of-charge site to advertise their sample gowns too so let your bride-to-be pals know as it's a great all-rounder.
You can find dresses in your area and contact the seller to arrange a viewing time. It's a personal site so you will interact with the seller. The potential is that you could really find out the story behind the dress. I love a dress with a story and imagine if the seller has photos!
A bit of a long shot but miracles do happen! This is another free ad site which covers the whole of the UK. You can search by area so again, you stand a chance of finding a dress which is local to you. The whole transaction will be direct with the seller and most are paid via cash on collection, also giving you the opportunity to try before you buy!
& The Rest
Over the years, and especially in the lead up to my own wedding, I've put together my own little directory of bridal shops around the UK who stock and specialise in vintage wedding dresses. Some are a little further afield so may mean a weekend away but what is the harm in that?! Grab those bridesmaids and follow that star (or the shop front of choice)! :)
My Top Secret List of Stockists (shhhh)…
And that wraps up my most epic of posts to date! For those who have found or are looking for your dream vintage wedding dress, please get in touch. I will be posting a 'Vintage Pick of the Week' on a brand new Pinterest board especially for you lovely lot so if you are looking for anything in particular, comment below and I will do my best to find it!
I wish you all a very merry everything and a happy always,
Love
Sophie x